4.5

/

339

reviews
Welcome to School Timetable's Easy Scheduler
Program to make school schedules
Create your scheduled school timetable in 6 easy steps
Online system without installation
Licença de 6 meses, 12 meses ou 24 meses à sua escolha
Best cost-benefit of the market
*Suporte via WhatsApp
Cadastre a semana da sua instituição, totalmente customizável

Recurso exclusivo permite cadastrar semanas diferentes para turmas diferentes

Monte grades perfeitas em funcionalidade e estética

Relatórios customizáveis com várias opções para formatar e imprimir

Edite manualmente sua grade se precisar

Nosso editor evita choques de professores e várias outras restrições

Possui vários tipos diferentes de relatórios

Formatação dos relatórios é customizável

Exemplo de grade montada da turma

Exemplo de grade montada do professor
Faça o Login no Sistema ou Cadastre-se

The easiest, quickest and most inexpensive way to assemble the grid of your school or business.

Cadastre-se agora!

The registration is free and it only takes 1 minute and a valid email address! Faça como milhares de instituições que estão economizando tempo e dinheiro com nosso sistema.


Easy Schedule in an online system that allows to solve the resource grouping problem in one or more physical spaces that cannot be freely shared under a number of restrictions. In the construction of the school schedules, the professors are the resources and the classrooms are the physical spaces in which the lessons take place and where several sharing restrictions are imposed. For Example: A professor cannot be in two classrooms at the same time, only one subject can be lectured per schedule in a certain classroom, etc.
Many other different pertinent restrictions to the professors and to the classrooms guarantee the construction of a quality school schedule satisfying the need of the school, of the professors and comfort in the distribution of lessons for the students.
If your company needs to build a schedule grid that manages resources, please contact us so we can adapt your problem.
Click to see our video tutorials and discover more about what this school schedule creating tool is capable of.
With Easy Schedule, it is possible, among other features:
Detemine the schedules in which each professor has the necessary availability to teach;
Indicate the way how the lessons of each classes should be arranged within the week (duplicated, separate, one lesson per day, etc.);
Limit the number of daily and weekly lessons of each professor;
Minimize the amount of work days and vacancies of the professors;
Specify simultaneous lessons between two or more classrooms;
Reunions ou extra activities for professors;
Add local restrictions for institutuions with 2 or more units who have shared professors
Create a schedule with multiple periods or shifts totally configurable
For an end result we have the grid created by Classroom and by Professor;
Click to see the list of all features of this software for assemble school timetable
We do know that the elaboration of the professors' schedules of an educational institution is a hard task and that normally requires several days even weeks of work.

Besides, the end result might not be the one expected when related to several requirements. Professors often demand for a minimal number of duplicated lessons to some subjects and mainly for a grid with less open periods between lessons.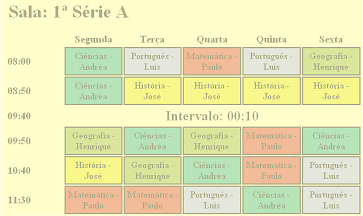 An example of a school schedule grid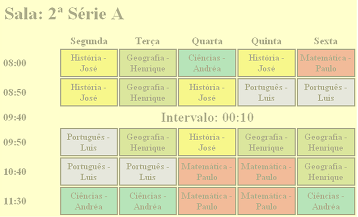 Example of the output of a School Schedule Creator
And it was with all those questions in mind that Easy Schedule® was developed, a sophisticated program to create school schedules

This easy to use program was created in order to help schools to elaborate their professors schedules in the best possible way.

Test it right now without any type of obligation and see how easy it is to use this tool!